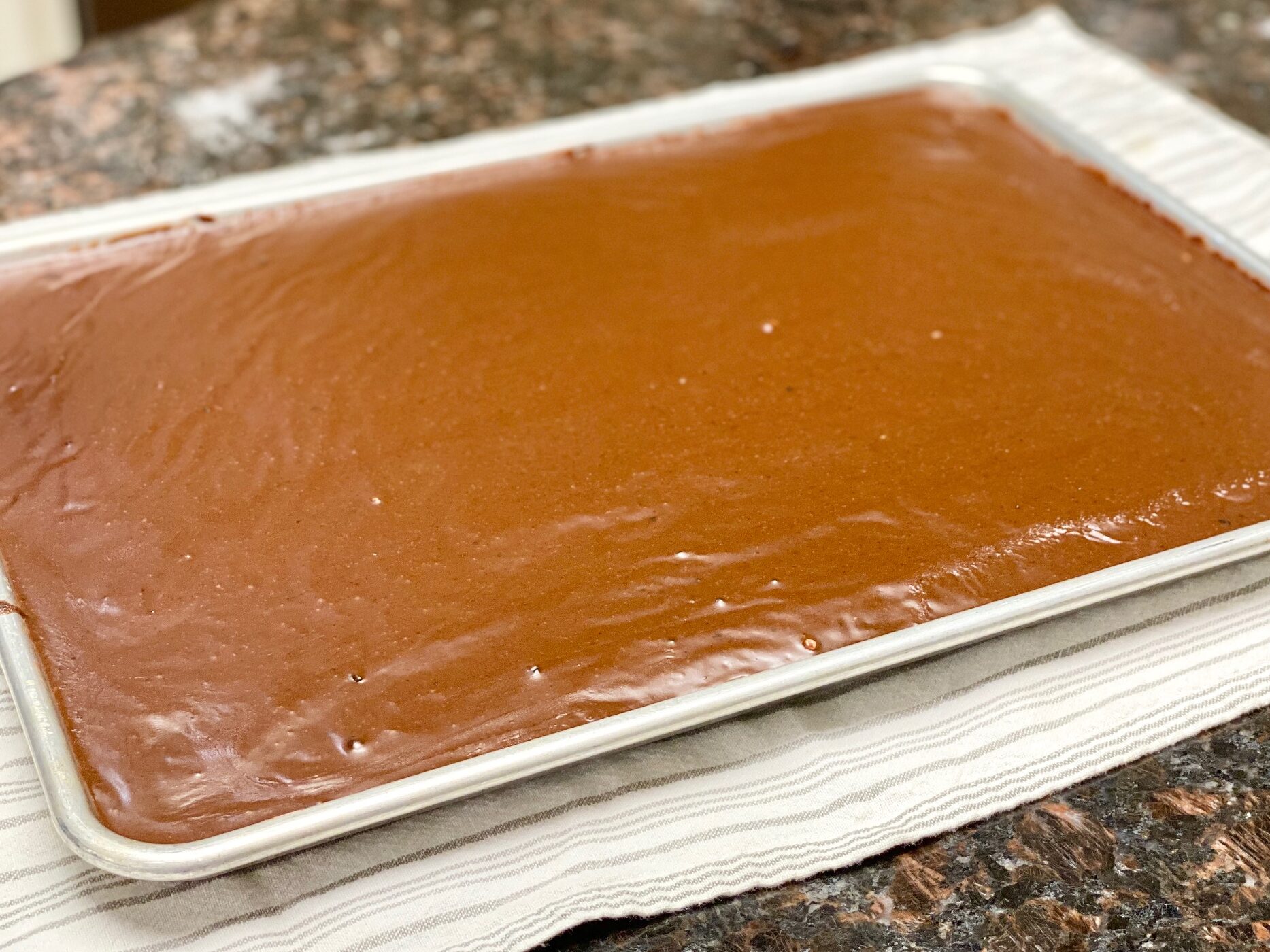 Jump to Recipe
Jump to Video
There are a lot of sheet cake recipes out there, but I think I've got my own measurements down to a cake that is just right! And the frosting… it's perfect. Chopped pecans are delicious mixed in with the frosting, I just didn't have any the day I made this cake. It's a great cake when serving a crowd too. But even with just my family, this cake didn't last long 😉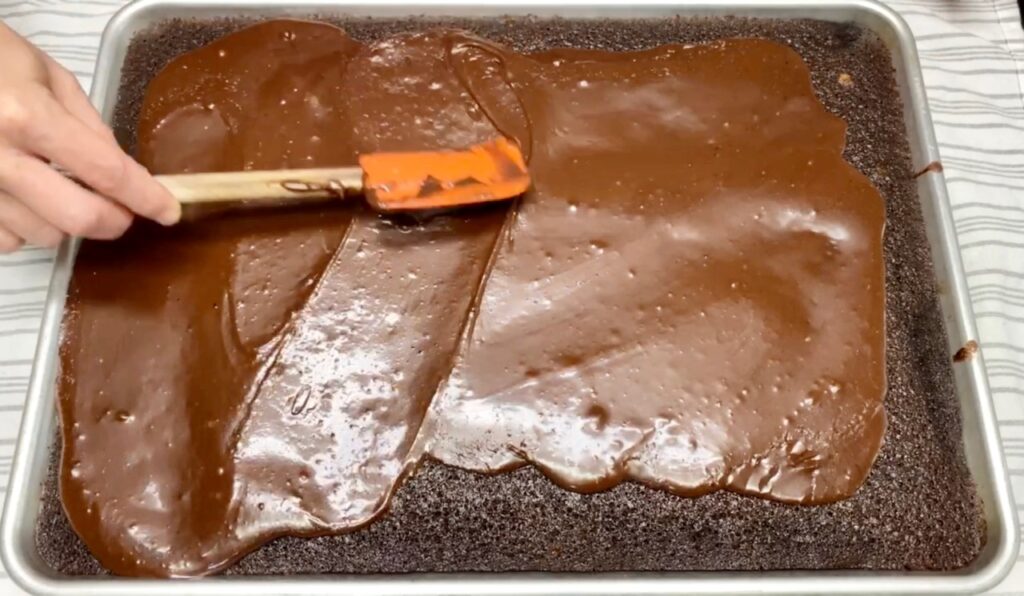 Here are the kitchen items I used for this recipe:
Enjoy! ~Mary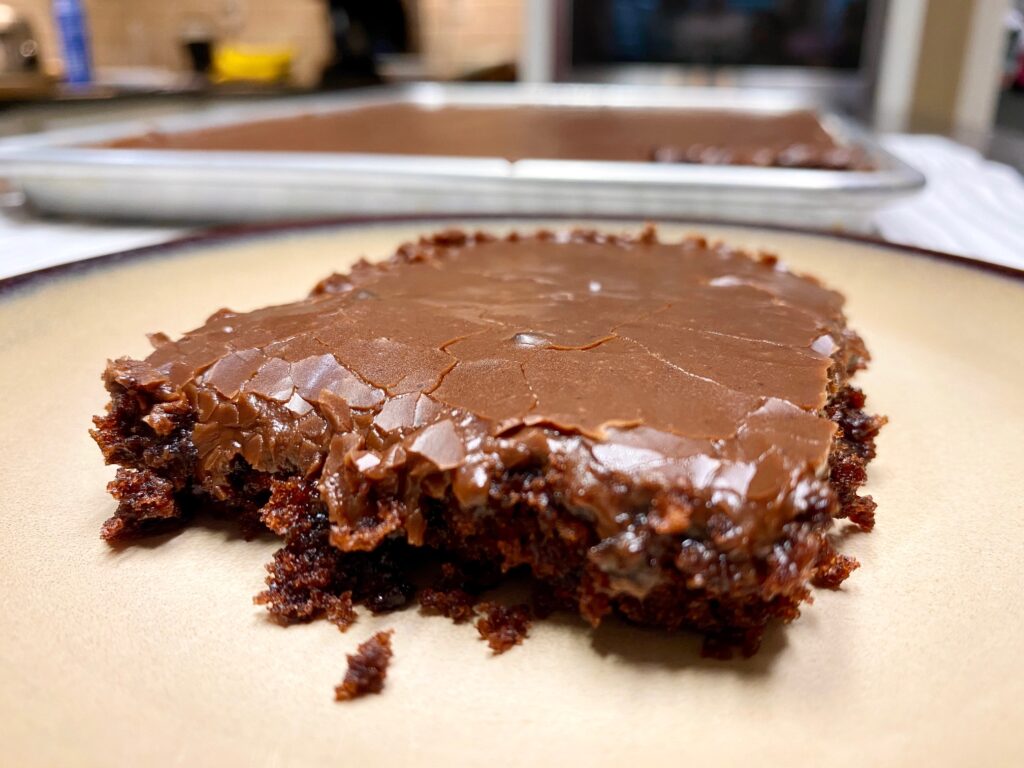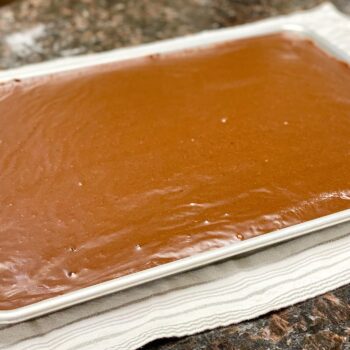 CHOCOLATE SHEET CAKE
A delicious chocolate cake that can serve a crowd. Chopped pecans also go really well on top or mixed in with the frosting, I just didn't have any this day. Enjoy!
Ingredients
FOR THE CAKE
1

cup

Salted butter

1

cup

Water

1/3

cup

Cocoa Powder

1/2

cup

Sour Cream

2

Eggs

2

tsp

Vanilla extract

2

cups

All purpose flour

1 1/4

cup

Granulated white sugar

3/4

cup

Brown sugar firmly packed

1

tsp

Instant coffee

1

tsp

Baking soda

1/4

tsp

Salt
FOR THE FROSTING
1/2

cup

Salted butter

1/3

cup

Whole milk

1/3

cup

Cocoa Powder

4

cups

Powdered Sugar

1

tsp

Vanilla Extract

1

cup

Toasted chopped pecans (optional)
Instructions
Preheat oven to 350 degrees.

In a medium sauce pan, combine the butter, cocoa powder, and water over low heat until the batter is melted. Turn up heat and bring to a boil. Once it starts boiling, turn off the heat and let cool for 10 minutes.

While that's cooling, whisk together the flour, white sugar, brown sugar, baking soda, instant coffee, and salt in a large mixing bowl.

In a separate bowl, whisk together eggs, sour cream, and vanilla extract. Now pour this bowl into your dry ingredients. Also pour the sauce pan butter mixture into the dry ingredients as well. Stir until combined.

Spread the batter into a greased or sprayed half sheet baking sheet

Bake at 350 degrees for 20 minutes. Check the middle with a toothpick.. if it's clean, it's done.

While cake is baking, prepare the frosting. Combine the milk and butter in a medium saucepan and cook over low heat until the butter is melted.

Add the powdered sugar and vanilla. Whisk until its smooth. Add splashes of milk until you reach your desired consistency. It needs be thick yet runny enough to pour really easy over the cake.

Pour over a warm cake. You can sprinkle chopped pecans on top if you like.

Allow the frosting to harden some before serving. About 1 hour. Enjoy!
Video
**As an Amazon Affiliate, my channel may earn a small commission on whatever you buy, with no extra cost to you. Thank you for your support!