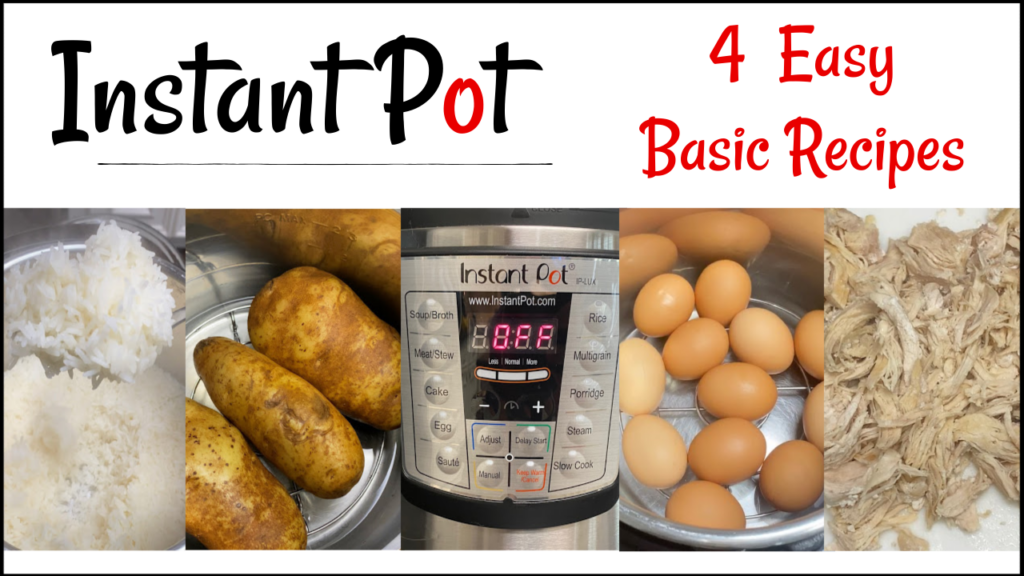 When I first got my Instant Pot, I had no idea how to use the thing, but now I love it! Once you get over the intimidating part of it, it's great! To get you started I am showing you how to make four basic simple recipes that can help with any dinner. Click here for the one that I have. I have the 6qt but it comes in other sizes. I find that the 6qt is just right.
1.) Rice – Its one of my favorite things to cook in it. It makes rice fluffier than any rice cooker I've owned in the past.
2.) Hard-boiled eggs – The eggs peel so easy and I don't accidentally over cook or under cook like I did using the stove.
3.) Baked potatoes – These are great for the Instant Pot too because I don't have to run my oven forever to cook them in this Texas heat.
4.) Shredded Chicken – The best and most convenient thing to cook is shredded chicken! You can use the chicken for chicken salad, add seasoning for tacos, burrito bowls, any recipe that you use shredded chicken in! You could even freeze the cooked shredded chicken is small baggies and use for quick lunches to put on a salad or just throw it in a pan with some oil and seasoning to heat it up.
Below you can find the instructions and video for all four of them.
Enjoy! ~Mary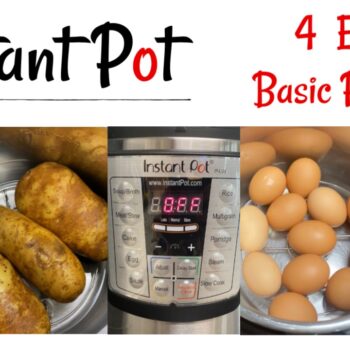 4 BASIC INSTANT POT RECIPES
RICE, POTATOES, HARD BOILED EGGS, AND SHREDDED CHICKEN
Ingredients
WHITE RICE
1

cup

Rice (1:1 Ratio water to rice)

1

cup

water
BAKED POTATOES
1

cup

water

3

large

potatoes
SHREDDED CHICKEN
5-6

Chicken thighs (or breasts)

1

cup

Water
Instructions
WHITE RICE
Pour the water and rice into Instant Pot. 1:1 ratio. For every one cup of rice, add one cup of water.

Close the lid and the valve to sealing position.

Hit the "Rice" button on the pot. If there is no rice button, hit manual pressure cook for 10 minutes.

When the timer goes off, let the pressure release naturally for 10 minutes before opening the valve. (this just means leave it alone for 10 min when timer goes off). You can release steam immediately.. but natural release helps the rice not stick to the bottom.

Then release valve and serve.
BAKED POTATOES
Place the rack that comes with your instant pot in the bottom of the pot.

Add 1 cup of water. Then set the potatoes on the rack. Close the lid to sealing position.

Hi Manual Pressure Cook

Cook time for 3 Potatoes – (Small Potatoes 10 minutes) (Large Potatoes 15 minutes) (Extra Large Potatoes 20 minutes) – If quantity of potatoes is more, just add 3-5 minutes.

Let natural release for 10 minutes when timer goes off. Then release valve and serve.
SHREDDED CHICKEN
Pour one cup of water in the Instant Pot

Put in your desired amount of chicken.

Put lid on in sealing position. Cook manual high pressure for 20 minutes.. (or 25 minutes for frozen chicken) If you have more than 6 thighs or more than 4 large breasts, add 2-3 minutes cooking time.

Quick release the valve. Shred and serve.
HARD BOILED EGGS
Place rack inside the instant pot. Pour one cup of water in the pot. Place 12 eggs on the rack.

Put the lid on and the valvle in sealing position. Press the egg button. If you don't have an egg button, hit manual pressure for 5 minutes.

When timer goes off, quick release the valve. Place eggs in an ice bath for 10 minutes. Peel and serve.
Video
**As an Amazon Affiliate, my blog may earn a small commission on whatever you buy, with no extra cost to you. Thank you for your support!